Dear guest, welcome to our website. The purpose of this website is to supply the children of God, all over the world, with good Christian resources like books and other material. We provide our guests with information about house churches and other topics relating to the Christian faith. Feel free to explore the freshly updated posts relating to current affairs and general Christian topics.
All resources in English can be obtained on the resources page and the relevant links.
Latest additions on SA House churches!
The truth about Spiritual Warfare
This book proves that "Spiritual warfare" is a false doctrine. The necessary Scriptures that support this statement are discussed in detail. People are actually oppressed just because they believe in this doctrine. This book will challenge your beliefs on this subject and it will set you free.
Peace of mind agreement!
eBooks written by ASR Martins are the cheapest on his own website. You will not find it cheaper at any other online bookstore. He also offers a refund, for your peace of mind, in case you are not satisfied with the quality of the book that you purchased. This refund is valid for 7 days only after the date of purchase. Your eBook will be available for downloads for an unlimited period of time in the format on your receipt.
No need to register: Choose your desired eBook format, log in with your name and billing address and you will be diverted to Paypal. Numerous methods of payment to choose from are available. Click on the links below for more information:
DO YOU NEED A FREE EBOOK READER TO READ THE ABOVE FORMATS? CLICK ON THE LINKS BELOW
Six free eBook reader applications software
Three quality eBook reader software to consider
There are many other free "Ebook reader" applications available on the internet if these are not for you.
Understanding the prophetic times we live in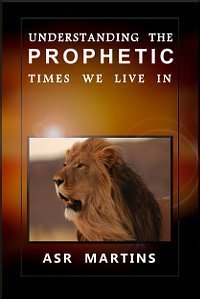 During the morning hours of Tuesday, June 2, 2015, the Lord Jesus Christ instructed me to write this report. He called it a "report" because He wanted me to write it as a "report of imminent events" to those who wish to understand the prophetic times we live in. The aim of this report is to bring clarity and to counter confusion in the lives of many Christians regarding the end-times, especially regarding the prophetic time we live in at this moment. The Lord's aim with this report is clear: Clarity will equip and enable God's children to follow His vision for and in this time period we are living in now. It will enable them to report for duty. It will enable them to become mighty instruments in God's hand. End-time ministry does not only mean that God is at work. It also means that we have some part to play in order to enable God to carry out His plans. This report will enable God's children to stand up and be counted". Click on the links below for more information:
Check out our special deals on romances, other fiction and non-fiction books! We really do want to introduce you to excellent books. We call it our "I found some good books for you" campaign. Click on the link below for more information:
Please visit our NEWS and our RESOURCES pages for lots of FREE books and other reading material based on the true and authentic word of God. These resources are excellent study material and free for everyone.
Ons het hierdie webwerf van stapel geloop om die Suid-Afrikaanse huiskerk gemeenskap te dien met 'n doeltreffende huiskerk gemeente fasilitering platform. Ons fokus is om die nodige hulpmiddels te verskaf wat hulle in staat stel om outentieke huiskerk gemeentes te plant en in stand te hou.
Ons is heeltemal oortuig daarvan dat God sy kerk nie net wil terugneem na die ongekunstelde eenvoud van die Nuwe-Testamentiese kerk nie, maar dat Hy ook 'n nuwe pad met ons wil loop na geestelike hoogtes wat nog nooit ervaar is nie.
Alle vyfvoudige bedienaars, huiskerk lidmate en ook enigiemand wat meer oor huiskerke te wete wil kom, word vriendelik uitgenooi om die webwerf gereeld te verken en die nodige hulpmiddels aan te skaf.
Neem asseblief die vrymoedigheid om met ons kontak te maak. Aanbevelings vir verbeterings is altyd welkom omdat ons hierdie diens aan u 'n vreugdevolle ondervinding wil maak.
BOEKE  EN  STUDIEMIDDELS
Huiskerke: Hoe? Hoekom?
Hierdie boek is 'n omvattende handleiding wat die Nuwe-Testamentiese kerk van die Bybel aan die leser bekend stel. Alle aspekte van die vroeë kerk se gemeente lewe word in die boek behandel. Die handleiding fokus op die geestelike beginsels wat outentieke huiskerk planting beheer. Klik op die skakels hier onder vir meer inligting:
Die waarheid omtrent bloedlynvloeke
Hierdie boek is geskryf om hierdie vals leerstelling uit die woord van God te weerlê. Kinders van God is werklik nie op hoogte met die woord van God met betrekking tot hierdie onderwerp nie. Hoewel die Bybel ast'ware hierdie leerstelling in soveel woorde baie duidelik bevestig as 'n vals leerstelling, veroorsaak onkunde steeds dat miljoene kinders van God onder hierdie juk gebuk gaan. Klik op die skakel hier onder vir meer inligting:
Die waarheid omtrent siektes en ander ellendes
Hierdie boek is geskryf om vals leerstelling ten opsigte van siektes en ander ellendes uit die woord van God te weerlê. God wil nie dat ons in onkunde en in die duister moet lewe ten opsigte van die oorsake van siektes en ellendes nie. As ons weet wat werklik siekte veroorsaak dan weet ons ook hoe om dit te voorkom. Dit is juis onkunde wat die verlossingswerk van Jesus Christus neutraliseer. Klik op die skakels hier onder vir meer inligting:
Is ons Bybels korrek?
Daar is tans 'n baie groot aanslag op die outentisiteit van die woord van God. Die kern van die aanslag op die woord van God is tweërlei van aard: Eerstens word daar van korrupte grondtekste gebruik gemaak tydens vertaling. Tweedens word die Bybels wat vanuit die korrekte grondtekste vertaal is se outentisiteit afgekraak. Hierdie boek bring u kortliks op hoogte met die nodige inligting om u in staat te stel om die regte Bybel te gebruik. Klik op die skakels hier onder vir meer inligting:
Spesiale studie materiaal aangaande kerkleierskap en bediening in die huiskerk gemeente nou beskikbaar op die hulpmiddels bladsy.
KORT ONDERWERP STUDIES
Klik op die skakels links op elke webblad vir kort onderwerp studies. Heel bo is die nuutste inskrywings gevolg deur ouer studies in plasing volgorde.
As enige van die materiaal op hierdie webwerf vir jou van enige waarde was, deel dit asseblief met ander mense. Versprei ons webblad adres en ander besonderhede aan vriende en kennisse en vertel ander van ons. Gebruik ook asseblief die verskillende sosiale netwerke ikone onder aan die bladsye vir hierdie doel.
Baie dankie
Basie Martins
Please help me by sharing this with your friends through the social networks: